Helping organizations responsible for critical infrastructure save time and costs while making them better prepared and more responsive to the needs of their clients, community, and citizens
Go360™ Locates helps contractors and infrastructure owners respond, maintain, and track asset maintenance of permanent infrastructure such as water lines, sanitary sewers, telecommunications, and utility lines placed underground or on poles. For example: servicing new subdivisions, new buildings, changes to existing services for buildings, emergency repair, call before you dig – work crew management.
Dispatchers use Go360™ Dispatch to rapidly assess incoming ticket requests. All maintenance information is captured in Go360 including the status, location, and as-built drawings with map, table, or hybrid views. Dispatchers can review, confirm, or update information, and see work crew status. Tickets can be sorted by commercial or residential types, prioritized, grouped as needed, and assigned to appropriate crews while effectively managing costs, resources, and time.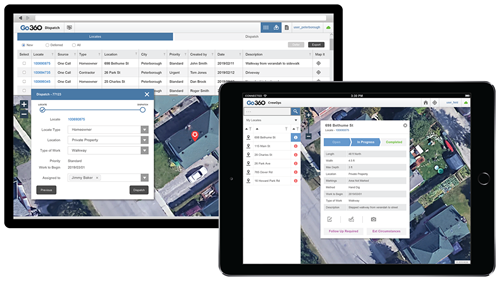 Dispatcher View (Desktop) and CrewOps View (Mobile)
Dispatchers can quickly mobilize field crews via Go360™ CrewOps to perform required locates, tasks, or inspections. Crews can see all work details, plus reference data such as drawings or maps. If required, crews can also be routed to the work location via a map.
Inspections are completed using Go360™ Audit & Compliance and results are reported back to the dispatcher in real-time. Crews simply need a web-enabled tablet or mobile device to receive assigned work by priority or location or search nearby unassigned work to self-assign & complete.
Dispatchers are informed of work statuses in real-time, timestamp tracking of work milestones, and history of associated work comments and follow-ups. Any uncompleted work can be reassigned to next available crews.
By including Go360™ Dashboards, managers and executives are provided a visual snapshot of current activities as well as an organization's key performance indicators. Reporting abilities are provided in a number of measures including, review by tickets, ticket type, field crews, location, and more. Dashboards and reporting provide organizations with better insight on work performance, ticket management, crew utilization, work quality, performance for financial accounting, and can provide specific governing agency reporting requirements.
Go360 Locates is a business application that provides efficiency and saves money through focused tools that allow your teams to spend their valuable time wisely.
Unparalleled Protection & Security
AGSI's Go360™ Security Engine is a proprietary system that continuously runs checks and balances in the background to protect data, control user access, and ensure user authentication. The Security Engine is a fundamental component of all Go360 applications, entrusted by many data sensitive organizations.